Is this a personal diary? I dunno.
Well, if you've got this far, thank you for humouring me. I quite fancied just showing my guitars and explaining some of the things I've found out about wiring. I see wiring as the cheapest and easiest way to make drastic changes, and have something a little different or unique. I will probably be changing pickups, wiring, plastics and other minor things
I like different.
So without further ado, I would like to share Number 2.
Number 1 is on its way...
My Number 2 guitar!

Chambered alder body, curly maple neck and birdseye maple fingerboard. 25 1/2" scale and weighs a mere 2.5kg (5.8lbs).
The pickups are by Irongear - Pig Irons in neck and middle (RWRP) and Platinum 90 in the bridge. I swapped one of the alnico V magnets in the P90 for an alnico II and think it makes it a little warmer. Magnet swapping is a disease. Be careful you don't catch it because it's just like the summertime blues - there ain't no cure.
Controls are volume (with push/pull to put the middle pickup in series), 6-way rotary selector and 'grease bucket' tone circuit, which uses an additional resistor and capacitor to reduce the treble and bass at the same time, making it clearer and less muddy. The tone control also has a push/push switch that acts as a blower switch, connecting the bridge pickup directly to the output and bypassing the other controls.
The rotary selector selects -
1. neck
2. neck and middle
3. neck and bridge
4. middle
5. middle and bridge
6. bridge
With the push-pull pulled up -
1. neck
2. neck and middle in series
3. neck and bridge in series
4. (mute)
5. middle and bridge in series
6. bridge
My intention was to make what I thought a Strat should sound like. I have never been particularly keen on the bridge single coil and wanted to find out how a P90 would work. There's a bit of a volume jump, which I actually like. It sounds great in combination with the neck pickup, and even with the middle pickup still has a certain amount of 'quack'. To me, the P90 is how the bridge pickup should sound - gutsy, fat and a bit rude, but cleaning up if you tell it to.
For more music that may or may not feature this guitar, go to
http://nickburman.com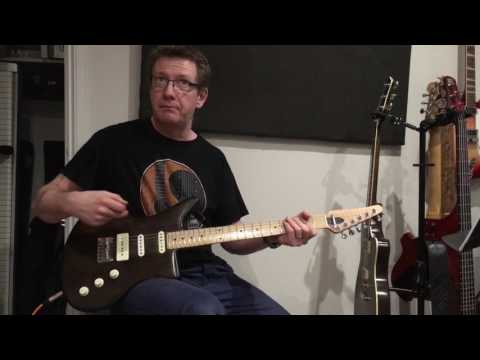 Anyone want to see some circuit diagrams?