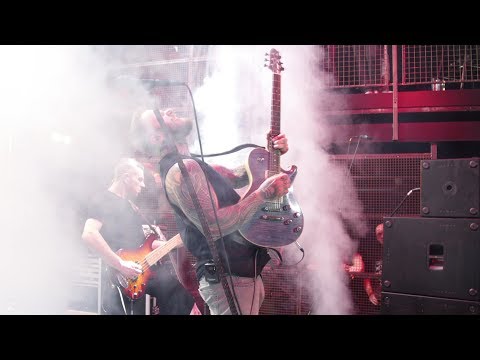 I saw this band on Thursday. Heavy Blues. The Bassist, Elliot Blackler is my wife's boss's son and I've met him a few times from when he was aged 15. I was stood next to him in the same venue a few years earlier (watching Andy McKee) and how odd to be seeing him up on stage now, every inch a rock god.
Elliot is actually an accomplished guitarist himself, having a BA with Hons in music. His bass playing is brilliant and he packs oodles of stage presence making him the most striking bassist I've ever seen, beyond even the effortlessly cool Chris Wilstenholme (MUSE.)
Kris Barras is something else. A stupendously good lead guitarist and singer with a dangerously tattooed physique and strong stage presence who was a formidable cage fighter with 12 wins, 2 losses and 1 draw under his belt ! To make the big time this band needs not only a hit front man but a hit writer as the music is generically hard blues and has only a cult following at the moment.
10/10 for musicality and showmanship... 5/10 for songsmithery. Backing singers, drummer, keyboardist, lighting and sound desk were all bang on the button delivering a sound as tight as a gnat's chuff.
I felt it well worth the 20 quid admission (with access to real ale) and the support acts were pretty cool too and if this were a magic show it would be close up magic of the best kind but it needs some hits to upscale it to big venues.
Raw and still undiscovered, just how all beef cakes should be (so my wife tells me.) This band could have seriously BIG commercial appeal because they've got it all - nearly.